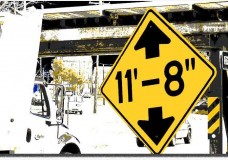 Vicki Simons of Truck-Drivers-Money-Saving-Tips.com has named today, 11/8 "Low Clearance Awareness Day" (Release Wire). For our part, we enthusiastically endorse this idea!
They also posted a reward for professional truckers who can show that their GPS routed them through a low-clearance underpass:
In order to help her learn more, Mrs. Simons announced the following reward to help raise awareness among professional truck drivers about low clearances. In the name of Truck-Drivers-Money-Saving-Tips.com, she will give a $50 Amazon.com gift card to

– the first professional truck driver who can document to her satisfaction

– that any GPS (Global Positioning System) unit that has specifically been configured for 13'6″ commercial motor vehicles

– has routed him/her to go under any overpass that is shorter than 13'6″ in the lanes of travel (not on the shoulders) within the continental USA.

Truckers are invited to submit information through a special form on the site in order to qualify.
If you have a video that show how a properly configured GPS routes you under a low-clearance underpass, send it my way and I'll publish it here.