Check out the new look for the Gregson St/Peabody St intersection: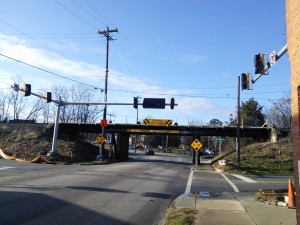 On Feb. 11, a crew from American Lighting and Signalization installed the new traffic signals and warning signal at the intersection in front of the 11foot8 bridge. They will also install pedestrian signals, which will improve safety here significantly for all the people crossing at this intersection. Despite some winter weather delays, they are making good progress and the signals should be activated in a few weeks.
As I understand it, the Gregson-facing signal will be connected to the height sensor and stop traffic when an overheight vehicle is detected. A warning sign will try to alert the driver to the clearance limit and suggest turning onto Peabody St. The idea is that stopping traffic gives the driver more time to evaluate the situation and perform the necessary arithmetic.
(click on the image for a hi-res version)