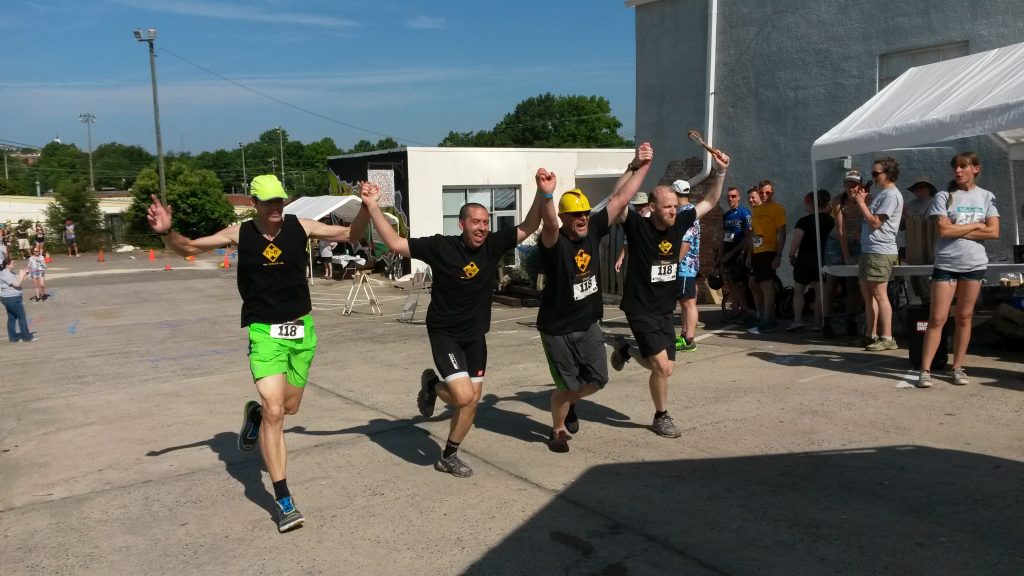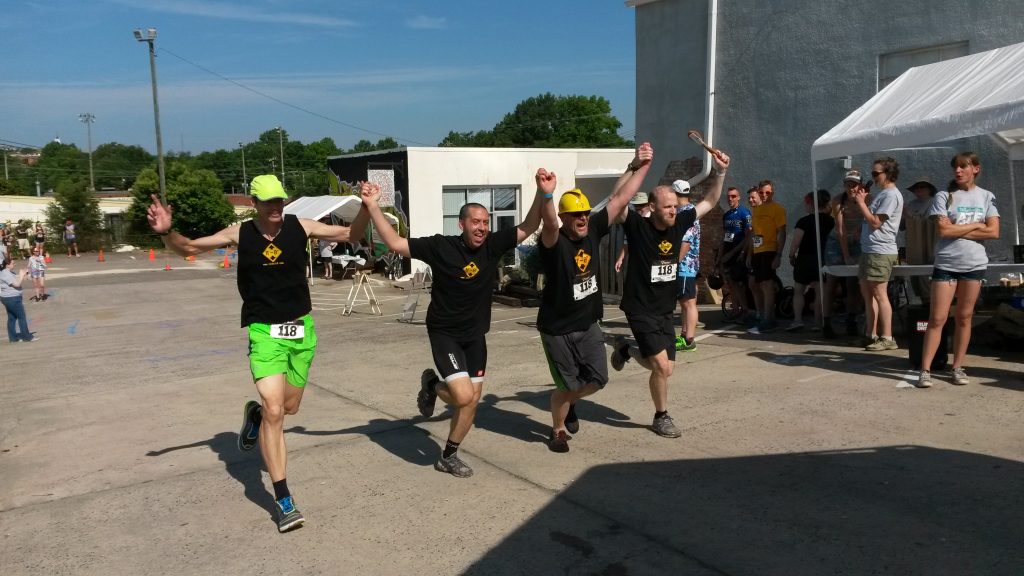 We had a great race today at the Doughman 8 here in Durham. Bill Copeland, Craig Young, Gordon Keeler and your's truly, Jurgen Henn, were on the team. Gordon ate spaghetti with broccoli rabe & Italian sausage from Boot and then ran 3 miles; Craig ate spicy barbecue Jack fruit arepas from Luna and then biked 10 miles; Bill ate Motorco's Chana Masala and then ran 2 miles; I ate a mini chicken salad brioche from Saladelia and a mini gougeres with cream cheese, goat cheese & jalapeños (like a little croissant with stuffing) from Mad Hatter and then I ran a mile and then splashed around in a  kiddy pool for a Minute. After that, we had desserts and ran to the finish line. It was pretty warm today, so the "water activity" was nice after the run.
Having to deal with the most complicated food and then running the shortest distance gave me something to think about, because every bit counts. Yet, when I was up, the field had spread out so much that I had not trouble holding on to our 4th place. I choked down the chicken salad and soaked the bread and the gougeres in water at the same time. After the salad, the soaked baked goods went down pretty quickly and I drank all the water so as to make sure no one thought I was cheating. That was when I encountered a leaf of lettuce on my way to the check point. It ended up stuck to he roof of my mouth and so I was able to pass the check point, but I had to deal with it afterwards. Oh well – just another day in the life of a Doughman!
We finished 4th place this year, which our second best result since the first Doughman in 2008, when there were only about a dozen teams in the race. Way to go, team 11foot8! And thanks to all our supporters who donated money to give us that awesome 5-Minute head start!!